"If there's something strange, in your neighborhood, who you gonna call?"
Well, not the Ghostbusters, at least not in Horta. Here there's someone else dealing with the invisible threat, namely us, among others of course.
If you need information, supplies, food or water, if you have any technical / bureaucratical / health issues or if you simply want some warm food to heat your soul, after this leg crossing, we are your guys!
Let me introduce ourselves: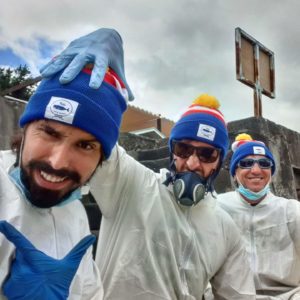 If you are planning your departure towards Horta, if you are already crossing and need information regarding COVID related restrictions, or if you need to arrange the delivery of mail – either of technical/mechanical material, or even romantic perfumed letters to/from your lovaa – Pedro is the man for the job. You may contact him through:
Once you arrive to Horta, you will have the chance to meet Duarte and Filipe, Peter's dynamic duo: the Azorean Riggs and Murtaugh, the Portuguese Batman and Robin, our very own Han Solo and Chewbacca.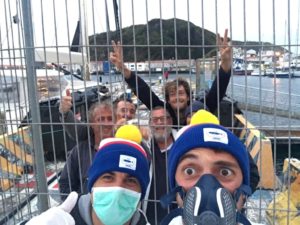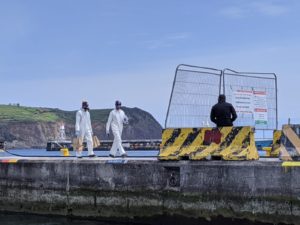 Anything you might need, Suzanne Huber-Curphey's "beautiful boys" are definitely the guys that can help you find a solution: every day, at any time. You can easily spot them going around all day, from boat to boat, bag after bag, carrying on their head the "beanie de la résistance", with its bright blue, red, white and yellow colors.
As you may imagine, we are a limited team and we have been doing everything within our reach not only to provide material help, but also to spread a certain degree of hope and peace of mind within the sailing community.
"Is there a way for me to help?" – excellent question, you gloriously wise, divinely noble human being.
Yes, there is! If you are interested in helping us with this cause, there are three main ways you can do it:
If you have passed by Horta, please share your content with us, you may post it in our facebook, tag us on instagram or send it through e-mail:
Alternatively, if  you could send us a small self-filmed video (a few minutes long) telling us your story, that would be amazing:
Where do you come from and how was your journey.
Where are you heading / when did you arrive at your final destination?
How have you been received in Horta? ( e.g. a message to bring some peace of mind to all those still crossing)
You may also contribute creating awareness to the cause by getting your very own beautiful and extremely fashionable "beanie de la résistance". All the donations will be allocated to the team, helping us help.
Well, that it, at least for now.
Good winds and vive la résistance!